You'll find an overview of our finished projects where we have deliverd design lights.
Follow us also on

Hotel Atlanta - Knokke - Wave lights in maple wood
Minor treat - Donut Ring lights in maple wood
Cambridge Chop House - custom made Helix light in Maple Wood.
Restaurant A Food Affair in Gent
Restaurant in Gistel, part 2
Launch of the Coffee Bean lamp in wood in a coffee bar on a Horeca fair
It comes in different sizes and also you have the choice between LEDs or Tube lamps, this light has the same look and feel as a coffee bean:
New pendant lighting design: Limulus light
New lighting design from Passion 4 Wood. Made from maple wood. Size : L 80 cm x W 20 cm x H 30 cm, Supports any kind of lamp with E14 socket
check our product page for more info : click here

Private project with 2 round pendant lights in ash wood
Colora Oostende
Big round pendant light above table in shop, lamp is made of wenge wood with central attachment
Weefkamer, small restaurant with custom made woven table lamps in maple wood
Table lamps specifically designed with woven wood and attached to sofa
Restaurant Shabu Shabu in Apeldoorn
Combination of different light fittings, Tube and block lamps were custom made for this restaurant.
Restaurant near Hamburg
Restaurant Forsthaus Friedrichsruh near Hamburg has different lights from our collection :
Rain lighting in private project
2 medium size Rain lights in Tulipwood and 1 big size walnut lamp
Different private projects
Office lighting
In this meeting room we have a large Tulip pendant lamp in Wenge and Ash wood.
For the hall we have repeated this tulip lamp but in a smaller version
Wooden wall lights have been used on the different floors, all in oak wood.
Restaurant
Here we have made the nautilus wall lamp in maple wood, lotus lamp mounted as a wall lamp and 1 new model
the HoneyDip pendant lamp.
Restaurant
Different small pendant lights above the tables
Small table lights in ash wood.
Impressive wooden light sculpture in staircase
New design "Helix" has been designed specifically for this project, this wooden structure is 10 meters high and we have used maple which gives this nice color.
This design we now offer in a modular system, so we can change the model depending on the height of the room
2 type of LEDs have been used : Warm white & RGB .
Treatment centre
Different lotus lights in the meeting room of this hospital
Shabu Shabu - Hoofddorp
Combination of different lights, half of them were made to measure.
Private project
Small project where we have used the glow & rain lamp both in walnut wood.
Horeca Expo 2012
On yhis horeca fair in the Flanders Expo halls we have different setups, We have installed lights in the big "Chef's Place" and also the VIP room.
Our new product : Tulip has been introduced to the main public here.
Shabu Shabu - Rotterdam South
For this project we have a collection pendant & wall lights in different type of wood.
Grimbergen Bruxelles bar
Large bunches of Rain lamps in different sizes & wood has been used to fill up this nice place.
Above the bar we have used the famous glow lights.
Engelendael
For the main lighting in this beautiful farm with Banquet Hall we have several large lamps hung from the type of Glow
Diameter 90 cm each with 3 lamps, made from a combination of Toulip & Zebrano wood.
De Moor - Bergen op Zoom
Restaurant with collection of rain lamps above the tables.
Ago's
Collection of different lamps, the wall lights are made on order to replace the existing older lamps. Wood used : Ash, Tulip & Wenge.
't Binnenhof
This restaurant - cafe is located in a shopping mall in Antwerp. The atmosphere is now changed completely due to the soft tone lights
Restaurant 't verschil
Collection of Glow and Nautilus wall lighting

XX">
Restaurant Ichiban
Glow, berry & Lotus lamp as wall lamp
Wall lamp : lotus in toulipwood
Glow : Hanging light in ash wood.
Warm lighting in wood on BIS fair
In cooperation with TINEL interieurs we have put different wooden lights on the bar and tables.
Pendal lights in Exki Berri - Paris
Several lamps in wood are used in different EXKI restaurants in both Belgium & France
Tailor made lamps in wood veneer in restaurant L'Armagnac
This little restaurant in Izegem has been transformed by an interior designer "Au Zenith" to a cosy and very attractive place to go to.
3 type of lights have been delivered with different wood veneer.
- Glow in tulipwood,
- Donut-Ring in ebony wood (Dia 1m)
- Tube_3 tailor made in oak wood (120cm)
Both the Donut-Ring & Tube_3 are designed & produced by us.
Thanks to :
- Au Zenith interieurarchitectenbureau
- Bistro L'Armagnac
Design lighting in wood in restaurant Agua Del Mar
Agua del Mar is the main restaurant of the Casino in Ostend.
Here we have deliverd 4 type of wooden lights, which brings a warm atmosphere to this place.
Warm lighting in hotel Maison Merode
Maison Merode lies in the hart of Brussels, the capital of Belgium.
This privately owned hotel has been transformed by an architect bureau : Cara Design
We have delivered lamps in veneer for the bar, and different rooms of this hotel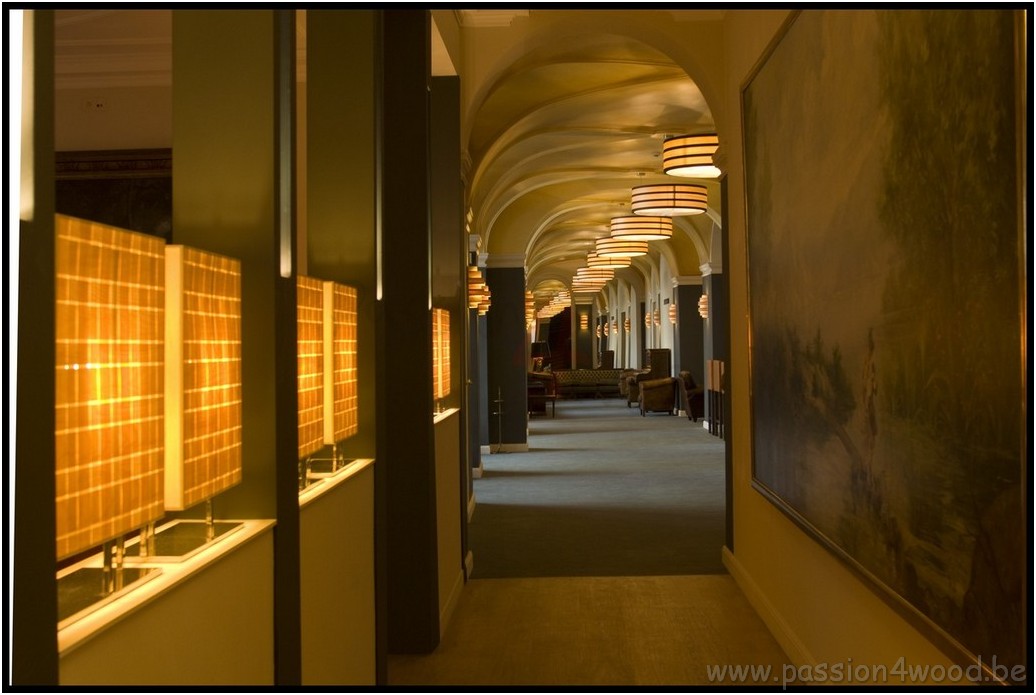 Tailor made lights in zebrano wood in 't Karakske
The lights on the counter are tailor made, the model is : "Tube 3" in Zebrano wood.
Lights in a dome of a restaurant
The challenge was to find a nice and good sollution to give enough light &atmosphere to the table.
Installed more than 30 lights for a fair in brussels
5 large lights, O-ring 1 meter diameter, installed in the big hall

Lights in the Jazz Club bar


4 lamps from the "Rain" series, walnut wood, medium size.
3 Lights, O-ring, 80cm at the info Bali Set of 3 lights, Rain collection
Private projects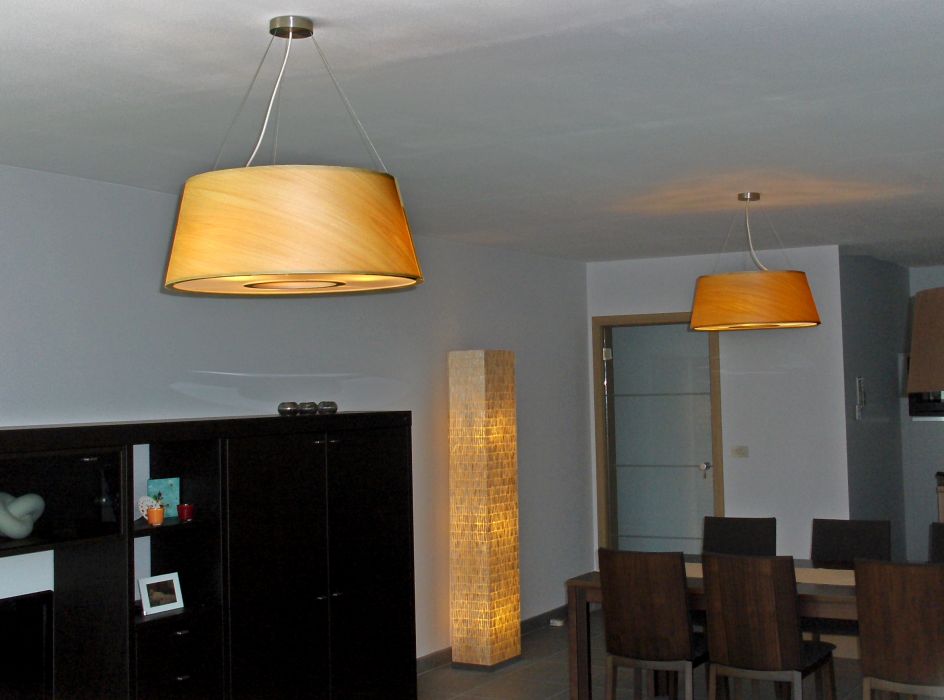 Wall lights in a restaurant Chi Chi's in Luxembourg

,
Made on order, lamp in oak - wood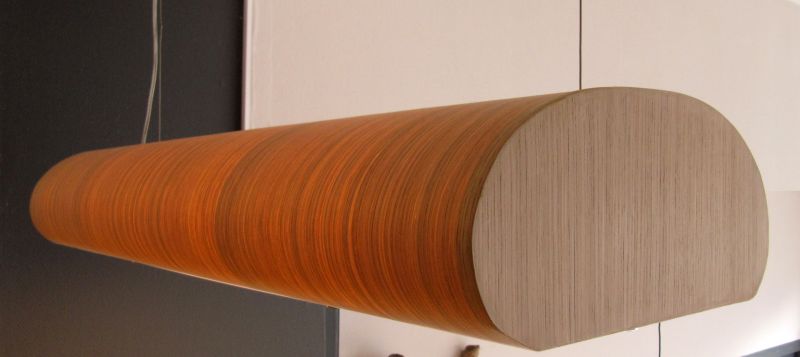 New designs of lamps in different wood